Near Sangri La there is a "The Blue Moon Valley" at 4500 m height
A côté de Sangri La se trouve « La Vallée de la Lune Bleue » à 4500 m d'altitude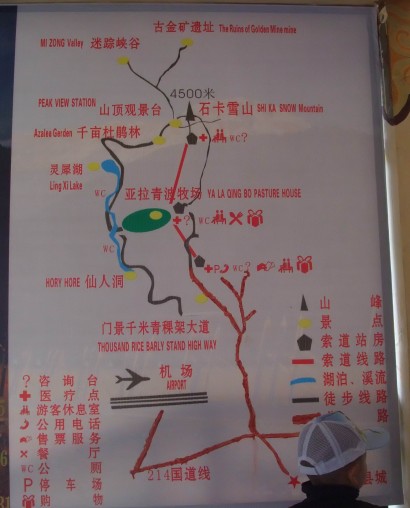 We are out of luck but today the weather is quite covered! To arrive above we have to take 2 cable railways.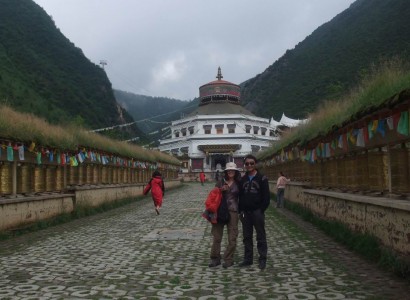 Pas de chance mais aujourd'hui le temps est tout couvert !
Pour arriver là-haut nous devons prendre 2 télécabines.
We meet a young boy, very nice, of around ten years Jacky Guo Guo (finally for the first name Jacky I am pretty sure but for Guo Guo a little less). He comes with his mother and his aunt there. As he learns English it is delighted to be able to train with us.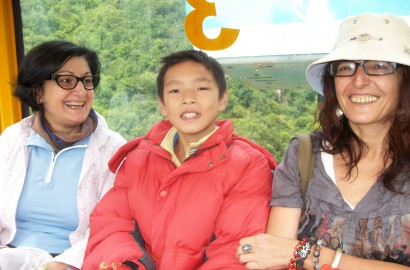 Nous rencontrons un jeune garçon, très sympathique, d'une dizaine d'années Jacky Guo Guo (enfin pour Jacky je sure pour Guo Guo un peu moins…). Il vient là avec sa mère et sa tante. Comme il apprend l'anglais il est ravi de pouvoir s'entraîner avec nous.
In the cabin in front of ours a kid makes the clown. Her mother says to her some small sentences in English and the kid shouts them through the window.
Arrived above we get acquainted, her name is Deby, it is adorable one 4-year-old girl.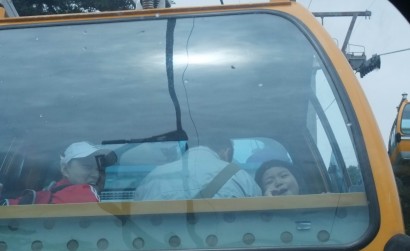 Dans la cabine devant la nôtre une gamine fait le pitre. Sa mère lui dit des petites phrases en anglais et la gamine les crie par la fenêtre.
Arrivée là-haut nous faisons connaissance, elle s'appelle Deby, c'est une adorable petite fille de 4 ans.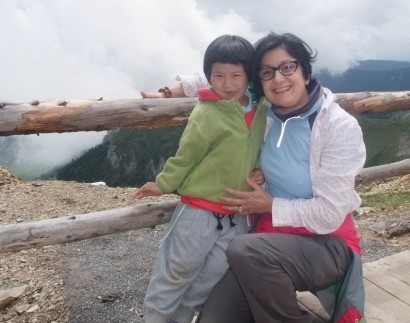 4500 m that blows up there!
4500 m ça souffle là-haut !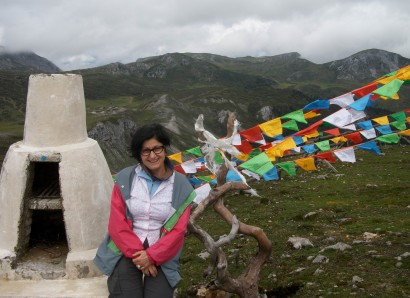 It is very funny to see numerous Chinese wrapped up warmly in big parka rented here while the weather is rather soft and especially to see them breathing in their bottle with oxygen! We are 4500 m but we do not make a lot of effort to arrive there!
C'est très rigolo de voir de nombreux chinois engoncés dans des grosses parka louées sur place alors que le temps est plutôt doux et surtout de les voir respirer dans leur bouteille à oxygène ! on est à 4500 m mais on ne fait pas beaucoup d'effort pour y arriver !
It is less funny on the other hand to see people trampling everywhere and damaging the protected spaces! The panels of ban are of no use …
C'est moins drôle par contre de voir les gens piétiner partout et abîmer les espaces protégés ! Les panneaux d'interdiction n'y font rien…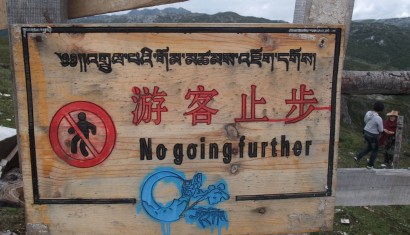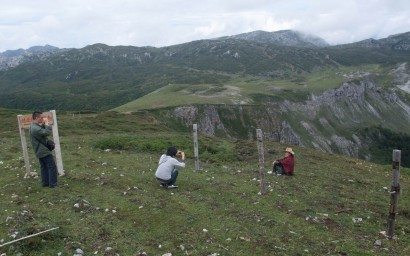 We stay on the zones "authorized"
Nous restons sur les zones « autorisées »